Don't Forget the Camera
Holly Hunt's Director of Business Analytics and Technology, Neil Goodrich, decided that the firm should perform an experiment. Goodrich gave iPads to selected warehouse employees and asked the selected staff members to use the devices to perform regularly-assigned tasks. Not surprisingly, the employees immediately started using the camera. Here's why the instant camera use, Holly Hunt warehouse staff members have to make judgments about whether to accept incoming goods…for example, is a particular bolt of silk damaged? The warehouse staff started taking quick iPad videos with a voice-over and sending it to the buyer, who could decide whether to accept the order. Goodrich points out, "That's a very expensive decision."
Another innovative way that Holly Hunt's staff used videos was communicating with other business units.  The employees in the firm's Chicago prototype workshop started creating videos and doing Web chat with colleagues at the company's facility in Texas. The focus was to discuss the feasibility of product ideas.
Some experts say that tablet technology is underrated for the device's video capability, however this opinion probably won't continue for very much longer due to an increasing number of consumers that stream movies via Netflix to tablets.
Scott Snyder, President of Mobiquity, a professional services firm predicts, "It will unleash a video monster like we haven't seen before." Snyder believes that video chat will skyrocket, as it's easier and more natural to use Skype, FaceTime, or similar desktop chat applications than it has been in the past with PC's.
Apple Still Knows Best
Steve Jobs' contempt for business IT was well known. As we all know Apple is far from anti-business, and companies are engaging directly with vendors to discuss iPad strategies and solve problems. Apple reported in the fourth quarter of 2011, the company sold 11.1 million iPads. Tim Cook, Apple CEO, cited an interesting example concerning iPads. Cook reported, "Fifty-two percent of Global 500 companies are testing or deploying the Apple tablets."

The burden still remains on companies to adapt to Apple's products. Bill Martin the CIO of Royal Caribbean claims, "They're certainly open to the discussion." Martin adds. "It hasn't been easy to get them to take quick and decisive action."
Apple makes it a point to highlight sophisticated medical images in the company's TV commercials. However, when St. Joseph Healthcare researched how best to clean iPads for use in clinical settings, unfortunately Apple didn't have an answer. So far, the disinfectant that St. Joseph Healthcare's technicians are using hasn't caused damage. Keep a good thought.
Something else that Apple needs to research and provide for iPads for the devices to really take off in the business environment is an iPad product road map. The same sort of road map that enterprise IT vendors offer. This short-coming makes it more difficult for CIOs to plan long-term strategies. Yet some IT leaders don't seem extremely concerned.
Martin with Royal Caribbean is excited about the introduction of the iPad 3. However Royal Caribbean just installed iPad 2s on the company's ships. Yet Martin is OK with that. He expects an iPad to last approximately three years on the ships, and Martin is confident that any version will be supported and sufficiently adequate over that particular time period. Royal Caribbean still uses first-generation iPads in a few restaurants as menus…and the iPads still a hit.
An IT executive might want any number of things from Apple to make it more enterprise-friendly. "But then they'd be Microsoft, not Apple," claims Nick Taylor, Senior VP of Technology at Level 3. Taylor is not extremely concerned about the lack of a long-term road map; he simply wants Apple to stay focused on the consumer and provide a killer user-experience. Taylor adds, "I just think it's a different thing."
Android developer Google isn't necessarily more in tune to business needs than Apple. Yet Android is an open source operating system, and tablet manufacturers who adopt Android technology possess the flexibility to make changes. Mobiquity's Snyder expresses is opinion this way, "That's where Android, with its malleability and range of OEM providers, is going to thrive."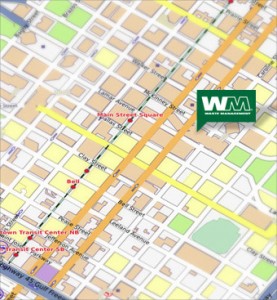 Waste Management uses the Gingerbread version of Android and is considering a transition to Honeycomb. Waste Management hasn't negotiated directly with Google to address operating system (OS) questions. Waste Management has instead gone directly to Samsung and other tablet manufacturers. These other manufacturers understand integration and firmware issues. Waste Management never seriously considered using the iPad. The biggest reason: It's too big for truck cabs…that limiting factor narrows down the field a bit.Tweet