iPads, Not Always A Laptop Replacement
Bill Martin the CIO of Royal Caribbean claims, "The iPad is an incredibly personal device." Royal Caribbean is taking a gamble by putting iPads in all staterooms of the newly-renovated cruise ship, Splendor of the Seas. The purpose you ask? The iPads will improve customer service and the users' experience. Guests will be able to use the iPads to access ship information, just the Internet, email…you name it.
Surprisingly, Martin doesn't plan on buying tablets for the company's staff members. Martin is not sold on the fact that iPads or tablets replace laptops when it comes to functionality or practicality. Martin feels strongly in the BYOD (bring-your-own-device) approach as long as staff members insist on placing so much personal content on assigned work devices. He adds that since employees want all the bells and whistles like apps, books, and movies – he in turn is permitting corporate email and calendars to be received on employees' personal devices.

Nick Taylor, Senior VP of Technology at Level 3, believes salespeople may not require laptops. Taylor permitted staff members to keep the devices when Level 3 rolled out tablets to employees last month. First, employee access to a laptop is that little bit of insurance in case tablet isn't operating correctly. Second, because of the emergence of user-driven IT, Taylor realizes that users are the best determinant in some cases to drive company initiatives. Therefore he wants to let the firm's sales staff have access to both sets of devices and see what those salespeople chose to do on those devices.
An important exception is of course executives. Some C-level staff members are finding they can travel with simply a tablet and leave the laptop at the office. Executives on the road tend to review and monitor information then quickly reply with fairly short emails. Neil Goodrich, Director of Business Analytics and Technology for Holly Hunt proudly states "The owner, Holly has an iPad, and this is the device she's been waiting for all her life." Goodrich is referring to Holly Hunt, the company's founder, CEO, and namesake.

Corporate board members show growth in the use of tablets as well. In the old days standard procedure was to FedEx a 600-page book to each director with all the confidential data needed for a board meeting. 2003 BoardVantage came on the scene. The company introduced an alternative to FedEx via a PC-based web portal. Ironically, BoardVantage sputters along. CEO Joe Ruck explains, "Board members aren't exactly millennials," On top of that, BoardVantage's web portal isn't as easy to read and it is easier to make notes on a paper book…even if the book is 600 pages.
BoardVantage launched an iPad version in mid- 2011. The launch caused hundreds of new companies to sign up each subsequent quarter. Compare these results to the business generated by the company's previous PC version. The PC version generated less than 20 new clients per quarter. BoardVantage found that IT specialists for potential clients' are hesitant to endorse the iPad approach. Ruck reports. "It is the directors who really push ahead on this."
Replace Other Kinds of Hardware

Ears Kamp, Strategy Leader for Accenture's mobility group claims, "Look for tablets to replace industry-specific computing devices, like point-of-sale terminals, not laptops in the near-future. It is a cost saving message too. A cash register costs $3,000 to $5,000 and requires a five-year life cycle to justify the cost. Consider the alternative. What if that interface was a $500 tablet? In addition, your young workforce can learn to use more quickly." Kamp adds, "You can throw the tablet away every year, and you have the latest computing experience. As CIOs embrace this consumer product cycle, they will move away from three to five-year innovation cycles to one to two-year cycles."
Matthew Childress, Waste Management IT Director is evaluating the life-cycle idea as well. Childress isn't sure about the right life-cycle. Waste Management is currently testing on one side a consumer tablet and on the other side a more conventional, ruggedized Windows-based tablet. Childress wants to see which system has better performance in order to phase out the paper forms most drivers use presently to receive route information. The company would prefer to use the same device in all of the company trucks for a span of three to five years.
Unfortunately, Samsung and most consumer tablet vendors don't plan to produce any specific tablet for that long – these tablet producers have product cycles set at about 18 months. Motorola Solutions reports the company's upcoming ETl, an enterprise Android tablet, will have at least a three-year life cycle…and a price tag of about $1,000.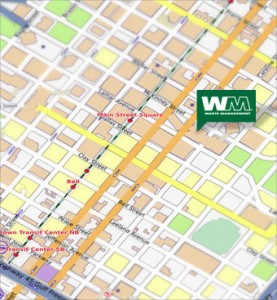 Childress thinks the price of consumer tablets could go as low as $200. The fact that life cycles may be shorter could make the introduction of tablets to the workforce more reasonable to consider. Tablets offer an upside to Waste Management. Tablets provide up to date features like advanced voice recognition that could possibly eliminate a need for radios or telematics-based vehicle monitoring. From a cost perspective, Childress closes with, "The new models would have to fit the same cradle in the truck to make economic sense."
Tablets are taking the place of interactive TVs on Royal Caribbean cruise ships. On the company's two newest ships that were launched in 2010, interactive TVs with keyboards provide guests access to a broad scope of information. This information includes personalized promotions that factor in guests' past purchases with real-time data on which spas and restaurants aren't being fully utilized by guests. Royal Caribbean plans to provide this information on iPads which the company sees as a more intuitive interface.
Tweet