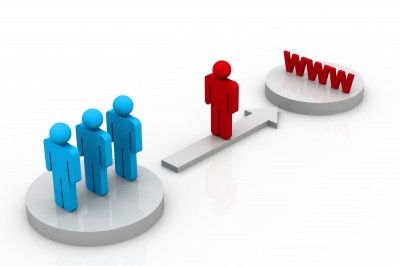 One area in the business environment that has always been "near and dear to me" is in the area of communications. I seem to be hyper-sensitive to way companies of all sizes implement different communications strategies inside and outside the organization. How about at this point let's just delve into the use of electronic and "analog" forms of communications organizations use, and most importantly how these forms of communications SHOULD be utilized for maximum effectiveness.
How about I start this off by addressing email messages and website content? When I do search for sources to write these blog posts I look for quality, expert sources with integrity. In this case "Management Communication" by Arthur H. Bell and Dayle M. Smith is the source. This book provides lots of useful information, strategies, and insight into the world of effective business communication. I find their suggestions on proper and effective communications still hold true.
When communicating with your internal or external customers through email or content on your company website think about following these 6 general guidelines.
Grab attention early

– Make sure that your message is "up-front" to grab attention. You only have a few seconds. Use the subject line and the beginning of your email to pique curiosity and to capture attention for the irresistibly important message.

Write concisely

– In layman's terms, get to the point and don't waste words.

Consider the impact of format

– The document must appear readable not simply be readable. White space is your friend, so use it that way. Be sure to use headings, bullets and "highlighting techniques" to make your document more pleasing. Using these techniques will give the impression to your reader that the document is well-organized and professional.

Find the right tone

– Just like in music, your tone in correspondence should be friendly and approachable.

Write efficiently

– Write business content at work. You'll need to defeat writers block with a technique as simple as taking the facts and presenting those facts in a professional, concise and approachable style.

Write naturally

– Don't necessarily write to impress the reader. It comes down to writing speak naturally in your own voice. Express, don't impress.
5 SPECIFIC EMAIL GUIDELINES
Abide by accepted conventions for spelling, capitalization, grammar, and punctuation

. – In order to remain professional, stick with conventional rules. Some great things don't change…and never should.

Get to the point, man

! – As I pointed out previously, grab the audience by effective use of the subject line and first few sentences of your email. Here's a basic format:
Paragraph or sentence 1 – "Here's what I want."
Paragraph or sentence 2 – "Here's why"
Paragraph or sentence 3 – "Here's specifically what to do"
Proofread your email before sending

– There are more errors than just spell-check errors. Beware the nasty syntax errors. You know which errors these are. These are the pesky errors that aren't misspelling errors. Such as errors like typing "of" instead of "off". It's not a misspelling, however these errors change the whole context of your sentence, and more importantly, make you appear unprofessional.

Route your emails only to those with a clear "need-to-know"

– Maybe if everyone adhered to this guideline we all wouldn't be inundated with so much "junk" email. Be judicious – your recipients will thank you

Verify recipients are able to open attachments that you send

– It is courteous and a good business practice to check with potential recipients to make sure you have compatible software applications.
References
Bell, A. & Smith, D. (1999). Management Communication. New York, NY-John Wiley & Sons, Inc.Tweet